The Citizens of 101
A TOWN BENEATH THE EARTH
Bunker 101 is a small town straight from the Fifties… Located miles underground.
Men, women and children all work to run the bunker with courage and determination. Surviving in the world after the Fallout is no easy task.
So whether you're a scientist, an explorer, a burocrat, a politician, a technician, a teacher or a postman, remember that the survival of Bunker 101 depends on you.
The Characters
ALL PROTAGONIST
There are no minor characters in Bunker 101, everyone has their peculiarities, everyone's an important piece of the mosaic. There are no extras, only protagonists. Every character has individual data, their own personal history and a Psychological profile, containing their objectives, their tasks, their beliefs, their ways of being.
Use the data on your character sheet as prompts for your roleplay, like a sort of guideline. The sheets are deliberately filled with unanswered questions so that you can "fill in the blanks" and make your character unique and a perfect fit to your tastes.
At the end of the registration period, you will be e-mailed a form to tell us what character you'd most like to play as.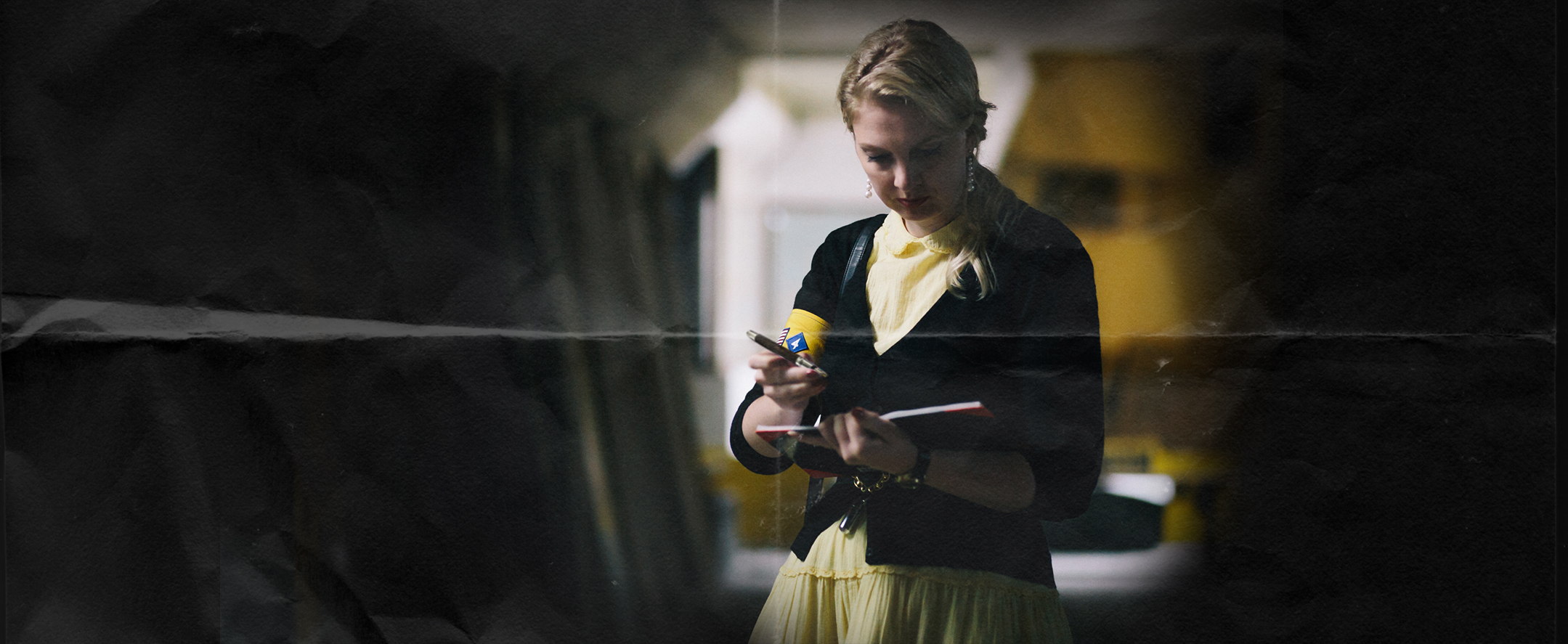 The Characters Guide
Download the guide to the Bunker 101 characters! Inside you will find descriptions of all the protagonists with every necessery detail to interpret it in the most funny way.
Choose the character that fits you perfectly or the one that offers you the most interesting challenge. Remember, there are no supporting characters, every character is a protagonist!
When you have found the characters that intrigue you the most, fill out the form for the assignment (until May 5th)!
The Character Table
A quick reference
Below you'll find the condensed character table, a simplified and schematic representation to get an idea of who you'll play with. You can find the complete character profiles in the Characters Guide. If some terms are unclear to you, check out the Guide to Bunker 101.
| Name | Archetype | Block | Gender | Schneider Scale | Permits | Ties | Department | Level | Classification | Club | Political stance | Religious stance |
| --- | --- | --- | --- | --- | --- | --- | --- | --- | --- | --- | --- | --- |
| Armitage | The ever-prepared head of mission | Unaone | Unisex | Green | Suffrage | | Security | Supervisor | Exploration | Elephant | Elephant | Rationalist |
| Ascari | The whipped husband seeking redress | Terrathree | Male | Green | Suffrage, Union, Birth | Union with Dirac. Unused Birth Permit. | Security | Operator | Intelligence | Elephant | Elephant | Rationalist |
| Bancroft | The current Secretary of the Ecosystem | Bissotwo | Unisex | Green | Suffrage | | Ecosystem | Supervisor | Biological | Tailor | Donkey | Duncanist |
| Bartali | The meddler with loose lips | Unaone | Unisex | Red | Suffrage | | Security | Operator | Intelligence | Decency | Elephant | Rationalist |
| Bernhardt | The prophet of the downtrodden | Pentafive | Unisex | Red | Suffrage | | Ecosystem | Operator | Biological | Mastiff | Mastiff | Duncanist |
| Bogart | The tormented soul | Pentafive | Unisex | Yellow | Suffrage | | Ecosystem | Operator | Ecological | Dancing | Elephant | Rationalist |
| Borges | The journalist in search of the Founder | Terrathree | Unisex | Yellow | Suffrage | Tesla's Tutor. | Memory | Operator | Chronicler | Donkey | Donkey | Duncanist |
| Braddock | The meek spirit | Quadrofour | Unisex | Green | Suffrage | | Security | Operator | Exploration Control | Tailor | Elephant | Duncanist |
| Byron | The sickly intellectual | Quadrofour | Unisex | Red | Suffrage | | Memory | Supervisor | Archival | Donkey | Donkey | Rationalist |
| Capote | The sensible editor | Quadrofour | Unisex | Yellow | Suffrage, Inebriation | | Memory | Operator | Chronicler | Decency | Elephant | Rationalist |
| Carnera | The spirited recruit | Bissotwo | Unisex | Green | Suffrage | Tutor to Eisenhower | Security | Operator | Exploration | Sport | Mastiff | Rationalist |
| Chamberlain | The caring doctor who wants to contact the dead | Bissotwo | Unisex | Red | Suffrage | | Welfare | Operator | Therapeutic | Decency | Donkey | Rationalist |
| Chaplin | The charming snitch | Quadrofour | Unisex | Green | - | Tutored by Kahn | Ecosystem | Operator | Ecological | Decency | Elephant | Rationalist |
| Churchill | The medic by vocation | Bissotwo | Female | Green | Suffrage, Union, Birth | Union with Eyser. Unused Birth Permit | Welfare | Operator | Therapeutic | Elephant | Elephant | Rationalist |
| Coppi | The Cult's pupil | Unaone | Unisex | Green | Suffrage, Union, Birth | Patton's sibling, Union with Newton (2 sons, Coppi Jr, Newton Jr.) | Security | Operator | Intelligence | Tailor | Donkey | Duncanist |
| Crawford | The overly-cautious braggart | Quadrofour | Unisex | Red | Suffrage | | Ecosystem | Operator | Ecological | Tailor | Elephant | Duncanist |
| Curie | The loving mother | Unaone | Female | Green | Suffrage, Union, Birth | Union with Zatopek. Mother to Nagurski and Swahn. | Progress | Operator | Scientific | Elephant | Elephant | Rationalist |
| Darwin | The anxious researcher | Terrathree | Unisex | Yellow | Suffrage | Disney's sibling | Progress | Operator | Scientific | Tailor | Donkey | Duncanist |
| DiMaggio | The cryptic decrypter | Quadrofour | Unisex | Yellow | Suffrage | | Security | Operator | Intelligence | Sport | Elephant | Rationalist |
| Disney | The bunker's buffoon | Terrathree | Unisex | Yellow | Suffrage | Darwin's sibling | Ecosystem | Operator | Biological | Dancing | Mastiff | Rationalist |
| Earhart | The stern technician | Bissotwo | Male | Red | Suffrage | Widowed father to Loik. | Security | Operator | Exploration control | Elephant | Elephant | Rationalist |
| Einstein | The conservative scientist | Terrathree | Female | Green | Suffrage, Union | Union with Fibonacci | Progress | Supervisor | Scientific | Decency | Elephant | Duncanist |
| Eisenhower | The shoulder to cry on | Bissotwo | Unisex | Yellow | - | Tutored by Carnera | Welfare | Operator | Therapeutic | Mastiff | Mastiff | Rationalist |
| Ellington | The victim of forbidden love | Pentafive | Unisex | Red | Suffrage | | Ecosystem | Operator | Biological | Tailor | Elephant | Duncanist |
| Ewry | The bunker's executor | Unaone | Unisex | Green | Suffrage | | Security | Supervisor | Intelligence | Sport | Elephant | Rationalist |
| Eyser | The enemy of technology | Bissotwo | Male | Green | Suffrage, Union, Birth | Union with Churchill. Unused Birth Permit. | Security | Operator | Exploration | Elephant | Elephant | Rationalist |
| Fangio | The militaristic brute | Unaone | Unisex | Green | Suffrage, Inebriation | | Security | Operator | Intelligence | Sport | Elephant | Rationalist |
| Faraday | The unorthodox chemist | Terrathree | Unisex | Yellow | Suffrage | Marciano's Tutor. | Progress | Operator | Scientific | Tailor | Donkey | Duncanist |
| Fermi | The touchy perfectionist | Bissotwo | Unisex | Green | Suffrage | | Progress | Supervisor | Logistical | Donkey | Donkey | Rationalist |
| Fibonacci | The ambitious troublemaker | Terrathree | Male | Red | Suffrage, Union, Inebriation | Union with Einstein | Progress | Operator | Logistical | Sport | Elephant | Rationalist |
| Fitzgerald | The absent-minded scholar | Pentafive | Unisex | Green | Suffrage | | Memory | Operator | Archival | Decency | Donkey | Rationalist |
| Gable | The prophet of leisure | Terrathree | Male | Yellow | Suffrage, Inebriation | | Ecosystem | Operator | Biological | Donkey | Donkey | Rationalist |
| Garbo | The self-sacrificing orphan | Terrathree | Unisex | Red | Suffrage | Sibling of Junior Lautrec | Ecosystem | Operator | Biological | Sport | Donkey | Rationalist |
| Goya | The frivolous busybody | Quadrofour | Unisex | Yellow | Suffrage | | Memory | Operator | Chronicler | Dancing | Elephant | Duncanist |
| Grant | The current President of the bunker | Bissotwo | Female | Green | Suffrage | | Welfare | Supervisor | Educational | Elephant | Elephant | Duncanist |
| Grezar | The irreplaceable expert | Unaone | Unisex | Green | Suffrage, Inebriation | | Security | Operator | Exploration | Elephant | Elephant | Rationalist |
| Hemingway | The current Secretary of Memory | Quadrofour | Unisex | Green | Suffrage | | Memory | Supervisor | Archival | Tailor | Elephant | Duncanist |
| Hepburn | The grand, humble poet | Terrathree | Unisex | Red | Suffrage | | Ecosystem | Operator | Biological | Donkey | Donkey | Rationalist |
| Hitchcock | The master of pranks | Quadrofour | Unisex | Red | Suffrage | | Ecosystem | Operator | Biological | Tailor | Donkey | Duncanist |
| Holiday | The radiation-poisoned wife | Unaone | Female | Red | Suffrage, Union | Union with Monroe | Ecosystem | Operator | Ecological | Mastiff | Mastiff | Duncanist |
| Jacovacci | The ruthless conservative | Unaone | Unisex | Green | Suffrage | | Security | Operator | Exploration | Elephant | Elephant | Rationalist |
| Jefferson | The optimist at all costs | Bissotwo | Unisex | Green | Suffrage | | Welfare | Operator | Educational | Donkey | Donkey | Rationalist |
| Joyce | The brilliant, invisible sidekick | Quadrofour | Unisex | Yellow | Suffrage | | Memory | Operator | Archival | Decency | Elephant | Duncanist |
| Kahn | The enlightened leader | Quadrofour | Unisex | Green | Suffrage | Tutor to Chaplin | Welfare | Operator | Therapeutic | Tailor | Donkey | Duncanist |
| Keaton | The rebel in love | Terrathree | Unisex | Red | - | Tutored by Garibaldi. | Ecosystem | Operator | Biological | Decency | Mastiff | Rationalist |
| Kerouac | The combiner of poetic fragments | Quadrofour | Unisex | Yellow | Suffragio | | Memory | Operator | Archival | Decency | Elephant | Duncanist |
| Lacoste | The tragic heroine of Bunker 101 | Unaone | Female | Yellow | Suffrage, Union, Birth | Union with Puskas. Unused Birth Permit. | Security | Operator | Exploration | Elephant | Elephant | Duncanist |
| Lincoln | The indulgent teacher consumed by resentment | Pentafive | Unisex | Yellow | Suffrage, Inebriation | Spooner's Tutor. | Welfare | Operator | Educational | Decency | Mastiff | Duncanist |
| Loik | The dashing jock | Bissotwo | Unisex | Green | Suffrage | Child to Earhart | Security | Operator | Intelligence | Sport | Elephant | Rationalist |
| Majorana | The broken heart | Bissotwo | Male | Green | Suffrage, Inebriation | Son to Sherman and Olsen. | Progress | Operator | Logistical | Dancing | Donkey | Duncanist |
| Marciano | The paranoid with a good reason | Quadrofour | Unisex | Red | - | Tutored by Faraday. | Security | Operator | Intelligence | Dancing | Elephant | Rationalist |
| Matisse | The chatty comrade | Quadrofour | Unisex | Yellow | - | Tutored by Puskas. | Memory | Operator | Archival | Mastiff | Mastiff | Rationalist |
| Monroe | The tight-strung wire | Unaone | Male | Green | Suffrage, Union | Union with Holiday | Ecosystem | Supervisor | Biological | Tailor | Elephant | Duncanist |
| Nabokov | The lovable heretic | Quadrofour | Unisex | Yellow | Suffrage | | Memory | Operator | Chronicler | Dancing | Elephant | Rationalist |
| Nagurski | The proud tomboy | Unaone | Female | Green | Suffrage | Daughter to Curie and Zatopek. Swahn's sister. | Security | Operator | Exploration | Dancing | Elephant | Rationalist |
| Nelson | The self-righteous pacifist | Bissotwo | Unisex | Green | Suffrage | | Welfare | Operator | Educational | Decency | Mastiff | Duncanist |
| Newton | The young upstart | Terrathree | Unisex | Green | Suffrage, Union, Birth | Union with Coppi (2 sons, Coppi Jr, Newton Jr.) | Progress | Operator | Scientific | Dancing | Donkey | Rationalist |
| Olivier | The lover of the good life | Pentafive | Unisex | Green | Suffrage | | Ecosystem | Operator | Biological | Dancing | Donkey | Rationalist |
| Olsen | The good patriarch | Bissotwo | Male | Red | Suffrage, Union, Birth | Union with Sherman. Majorana's father. | Security | Operator | Exploration Control | Dancing | Donkey | Duncanist |
| Owen | The cold vindicator | Unaone | Male | Green | Suffrage | Denied Union request to Tracy | Security | Operator | Intelligence | Donkey | Donkey | Rationalist |
| Patton | The pet Mastiff | Unaone | Unisex | Green | Suffrage | Coppi's sibling | Welfare | Operator | Educational | Mastiff | Mastiff | Rationalist |
| Picasso | The jaded propagandist | Quadrofour | Unisex | Yellow | Suffrage, Inebriation | | Memory | Operator | Chronicler | Donkey | Donkey | Rationalist |
| Piola | The current Outgoing President | Pentafive | Male | Green | Suffrage | | Security | Operator | Intelligence | Sport | Elephant | Duncanist |
| Proust | The idol of the bunker | Quadrofour | Unisex | Green | Suffrage, Inebriation | | Memory | Supervisor | Chronicler | Elephant | Elephant | Rationalist |
| Puskas | The despotic husband | Unaone | Male | Yellow | Suffrage, Union, Birth | Union with Lacoste. Unused Birth Permit. Matisse's Tutor. | Security | Operator | Exploration | Elephant | Elephant | Rationalist |
| Richelieu | The grim good-thinker | Unaone | Unisex | Yellow | Suffrage, Inebriation | | Welfare | Supervisor | Educational | Elephant | Elephant | Rationalist |
| Robespierre | The censor of terror | Bissotwo | Male | Green | Suffrage | | Welfare | Operator | Educational | Donkey | Donkey | Rationalist |
| Schrödinger | The insufferable genius | Terrathree | Unisex | Yellow | Suffrage | | Progress | Operator | Logistical | Decency | Donkey | Rationalist |
| Sherman | The current Secretary of Welfare | Bissotwo | Female | Green | Suffrage, Union, Birth | Union with Olsen. Mother to Majorana. | Welfare | Supervisor | Therapeutic | Elephant | Elephant | Rationalist |
| Sinatra | The insolent looking for revenge | Quadrofour | Unisex | Red | Suffrage | | Ecosystem | Operator | Ecological | Sport | Donkey | Rationalist |
| Spooner | The culprit with a gentle heart | Pentafive | Unisex | Green | - | Tutored by Lincoln | Security | Operator | Exploration | Sport | Mastiff | Rationalist |
| Swahn | The little princess of the Bunker | Unaone | Female | Red | Suffrage | Daughter of Curie and Zatopek, sister of Nagursky | Security | Operator | Exploration Control | Decency | Elephant | Duncanist |
| Tesla | The lost lamb | Terrathree | Unisex | Red | - | Tutored by Borges | Progress | Operator | Logistical | Tailor | Donkey | Duncanist |
| Tracy | The defender of the meek | Pentafive | Female | Red | Suffrage | Denied Union request with Owens. | Ecosystem | Operator | Ecological | Mastiff | Mastiff | Rationalist |
| Truman | The pillar on the verge of collapse | Bissotwo | Unisex | Red | Suffrage | | Welfare | Supervisor | Therapeutic | Dancing | Elephant | Rationalist |
| Turing | The talented social climber | Pentafive | Unisex | Green | Suffrage | | Progress | Operator | Logistical | Sport | Donkey | Duncanist |
| Volta | The current Secretary of Progress | Bissotwo | Unisex | Green | Suffrage | | Progress | Supervisor | Technical | Donkey | Donkey | Rationalist |
| Wayne | The old heart of gold | Pentafive | Unisex | Red | Suffrage, Inebriation | | Ecosystem | Operator | Biological | Tailor | Donkey | Duncanist |
| Zatopek | The current Secretary of Security | Unaone | Male | Green | Suffrage, Union, Inebriation, Birth | Union with Curie. Father to Swahn and Nagurski | Security | Supervisor | Intelligence | Elephant | Elephant | Rationalist |